Europa Oil & Gas provides technical update on LO 16/20 Inishkea
Wednesday, Mar 14, 2018
Europa Oil & Gas has provided investors with an update on its portfolio of multistage licences offshore Ireland, including Licensing Option ('LO') 16/20 near the Corrib gas field in the Slyne Basin, where management has elected to fast track an ongoing technical work programme following positive results.
Europa has an industry-leading and highly diversified portfolio of prospects across seven licences and licensing options ('LO'), three basins and six play types in Atlantic Ireland. Among these, Europa has been sufficiently encouraged by recent technical work to consider the Inishkea prospects in LO 16/20 in the Slyne basin and near the Corrib gas field our flagship project in Ireland. The Company is now seeking to fast track technical work on LO16/20 Inishkea with the intention of delivering a new prospect inventory in H1 2019 and, subject to meeting technical and commercial criteria, identifying a firm drilling target for an exploration well in 2020.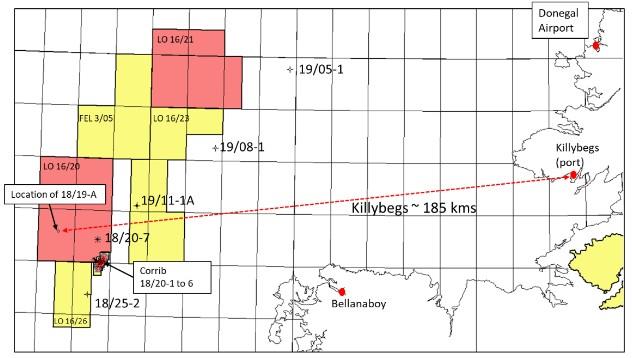 All of the prospects identified in Ireland are potential company makers
http://bit.ly/2FiyCGX
. Europa is choosing to push the prospects in LO 16/20 harder however for the following reasons:
The Triassic Gas hydrocarbon play is well understood and proven to work both technically and commercially in the Slyne basin by the Corrib gas field. Therefore, play risk is lower than in other Atlantic Ireland basins where play risk remains to be conclusively proven by a commercially successful exploration discovery.
We believe 2.5 tcf of undiscovered Gas Initially In Place (GIIP) is likely to translate into commercially significant prospective resources. We understand that the recovery factor at the Corrib field is ~ 80%.
Water depths are comparatively shallow (400-600m) and do not require harsh environment sixth generation drillships therefore drill costs are lower. We have recently conducted a drill cost estimate for a well on the Inishkea prospect and dry hole cost including mob and demob is US$28 million using a prevailing rig rate of US$120,000 per day.
Gas infrastructure is already present nearby at Corrib therefore a fast track path to commercialisation is potentially available, subject to negotiation and cooperation with the infrastructure owners
Gas is likely to be a significant component of Ireland's future energy needs both for electricity generation and domestic and industrial heating.
For more information, please visit:
http://www.europaoil.com
For additional information on this project, please visit our ProjectsOGP database